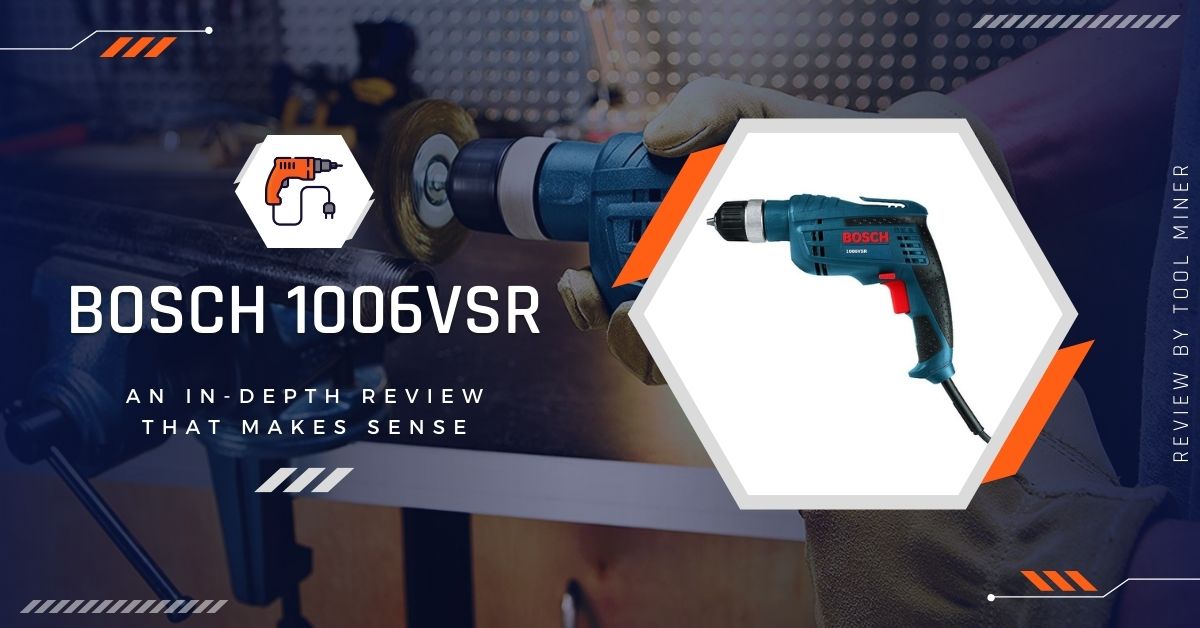 Bosch 1006VSR is one of the phenomenal corded drills you can have. The great thing that I have seen about Bosch tools is that they are quite reasonably priced.
And adding top of it is the tool warranty range they give to customers like you and us, which saves us from utter loss.
The same applies to this little guy. It has quite a dynamic body design with a soft gripping layer on the handle.
On top of that, the price it comes with is cheaper plus a 2-years limited warranty with the pro vantage. I say these 2 years are enough to test this handsome bud out.
This Bosch corded drill is built for woodworking, DIY, shop, and around the home/garage projects. It's a 3/8 corded keyless chuck drill with a 6.3-Amp motor that grants 2.600 RPM for high performance.
Another fantastic thing is its popularity among DIYers, Contractors, Woodworkers, and other experts like you and us.
That's the reason why it piqued our interest. So, we did deep research on it and wrote this in-depth Bosch 1006VSR review that makes sense.
1006VSR Bosch Corded Drill Review 2022
Now, I know that you want to know each aspect. Because it's a matter of your money and giving you the updated information.
As I always try to save money when buying out tools either from the native store in my neighborhood or if it's on Amazon.
That's why I have divided each unique feature of the Bosch corded drill separately and elaborated on it based on my experience as well as what other customers have told us.
So, let's begin…
RPM
The drill owns the power of no-load 2.600 RPM which is more than enough to drill through tougher materials easily.
This kind of power makes it easier to drill smoothly without forcing and pushing the drill by yourself just to drill a hole. Not like in the case of local cheap drills. 
Motor Power (Amp)
The impressive power that I mentioned above is originated from the Variable speed motor of 6.3 Amp. The motor balances out the power to weight ratio by giving maximum power at a minimum rate.
Service Minder Brushes (SMB)
The Bosch 1006VSR is equipped with modern SMB Technology. SMB is referred to as "Service Miner Brushes".
It automatically stops the drill when it needs brush replacement. This prevents the tool from getting damaged and saves your extra costs.
Variable Speed Reversible (VSR)
Yup, it does have the VSR technology. You can use it for both forward and reverse actions i.e., for drilling, driving, screwing as well as unscrewing.
Chuck Design & Type
Now, to come for the chuck. It's a 3/8-Inch ratcheting keyless chuck built with durable plastic. This chuck type is really handy as it makes it easier to change bits.
It can hold almost all types of drill bits. In the case of the drill bits, the Bosch has a special black oxide bit set and a screwdriver bit set made for 1006VSR.
And amazingly, the ratcheting chuck can help you in drilling, driving, and screwing given that you have the above bit sets.
Body Structure And Design
The body has an ergonomic design with a soft-grip handle that prevents hand and wrist fatigue.
On the flip side, the enhanced lock-on switch eliminates the risk of accidental activation of the drill. This particular problem is extremely dangerous when operating with drills.
Next is the durable belt clip that is convenient in carrying the drill along with you when you have to move here and there a lot. In other words, easy toting.
Lastly, the two-finger trigger size makes it easier to start and speed changing less hectic during work.
Size And Weight
The smaller size of 3 x 11 x 9 inches makes it easier to handle during work and lower weight (4 lbs) gives you portability. Because heavier drills make it harder to carry and move them around.
Warranty
When it comes to warranty the Bosch corded drills are put behind others. This small mate comes with a limited 2-year warranty with pro vantage, which is more than the Makita 6407. But, Makita takes the cake in the higher rating.
Pros
Affordable
Service minder brushes
2-years warranty with pro vantage
Powerful variable motor for high performance
Built for drilling, fastening, screwing work in shop and house
Works fine other bit types such as titanium coated, black oxide
Easily drills through materials like hardwood, metal, or steel plates
Cons
Problem with VSR trigger

Not made for drilling in tight spaces
Many complained about poor balancing
Many cases of defective product shipping
2 cases of chuck loosened up or ceased working
Bosch Keyless Chuck Drill Alternatives 2022
Additionally, it's not the only drill that has everyone's attention. Other major players are playing their part and we have mentioned them below as alternatives in our Bosch corded drill review.
Craftsman CMED731 Drill/Driver, 7-Amp, 3/8-Inch
The Craftsman CMED731 is built with a 7.0 Amp motor that delivers 0 to 2,500 RPM for heavy-duty tasks. There is a 3/8-inch durable keyless chuck for an easy bit change.
Further on is the lock-on trigger for prolonged use and a smooth reverse switch for forwarding and backward operation. Plus, comes with a 3-years warranty.
---
BLACK+DECKER Electric Drill With Matrix System
The Black & Decker matrix drill is specially made for people who want various tools at their disposal. Yup, the drill was enhanced with a unique matrix quick connect system.
It includes impact driver, trim-saw, reciprocating, router, sander, jigsaw, oscillating, and workbench attachment. As for the drill, it has a 4 Amp motor with an 11-position clutch system to prevent stripping and overdriving screws.
My Final Verdict To You
Considering all the aspects and compared it to its price. I say it's a best corded drill for folks with a tighter budget. A high specs drill from a most trusted brand. Plus, the warranty protects you from any loss.
All in all, it's the best drill for around the house, and shop work. It's not perfect as there is nothing perfect on this planet. But, get's the job done very well.